The Georgia Bass Federation (GBF) spent the week of 22-26 March, 2023 on Lake Eufaula to determine who would walk away with the title as Georgia State Champion. Dropping lake levels during practice days showed that the weights might be tough to come by, however, when the first bag came to the scales on Saturday afternoon newfound hope emerged. A solid 8-pound 7-ounce fish was the first to be weighed in. It was a beautiful fish though weights and results from other teams verified it was still a rough go from there. Only eight 5 fish limits were weighed in during the first day of competition. Top boater was Brent Tullis from Marietta Bassmasters with 16-11 pounds and top co-angler was Anthony Gaskins from Okefenokee Bass Anglers with 13-06 pounds.
Changes made during the second day made it seem as though that the anglers better determined what the fish might be doing during these changing water conditions. Day 2 had fourteen 5 fish limits weighed in anchored by a whopping 8-pound 10-ounce largemouth. Brent Tullis remained steady as he weighed in another 5 fish limit, weighing 17 pounds 1 ounce for a two-day total of 33-12 pounds; winning the honor of the Georgia Bass Federation 2023 State Champion. Earl McQuaig from Current Anglers weighed in an incredible 5 fish limit totaling 16 pounds 8 ounces giving him a two-day total of 21-03 pounds winning him the honor of Georgia Bass Federation 2023 State Champion on the Co-Angler side.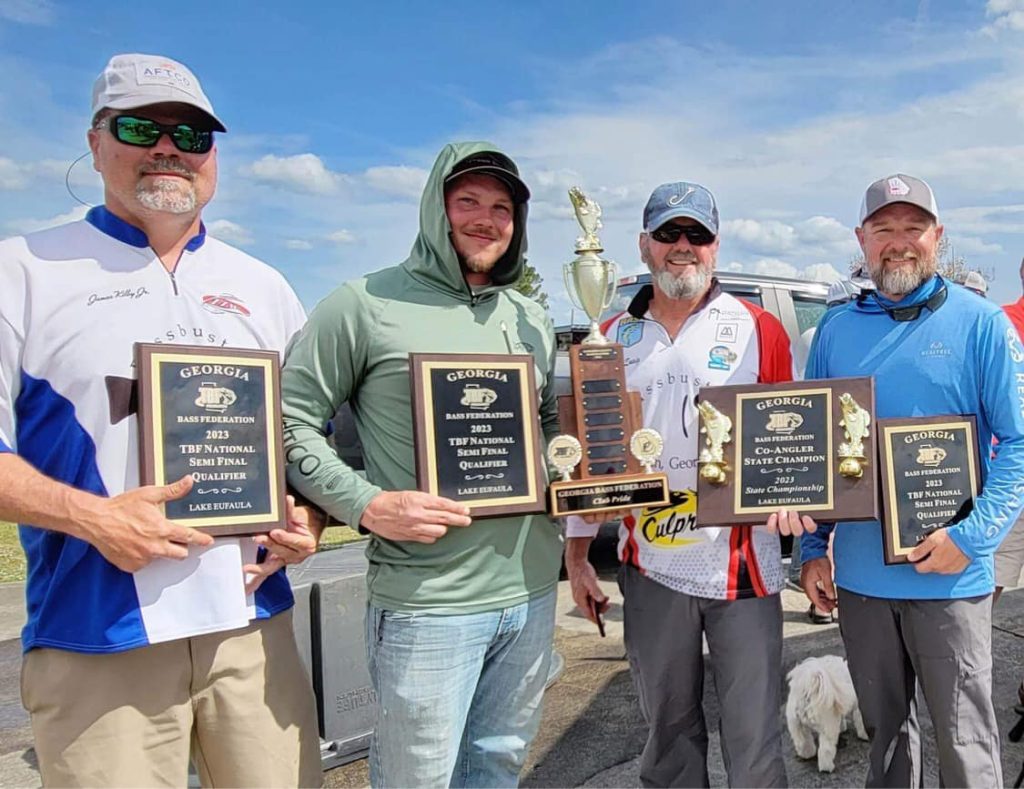 Altogether it was a great experience for everyone involved. The Current Anglers took home the Club Pride Trophy supported by that wonderful finish by Earl McQuaig (21-03) and another consistent performance by Tyler Wilson (30-10) combined for a winning 51-13 pounds.
Big movers or comeback anglers during this two-day tournament were Fred Link and Tim Vaigneur. Fishing on the Boater side Fred improved 24 places with a fine bag weighing 16-08 pounds. This took Fred from 35th place on Day 1 to an 11th place finish on Day 2. On the Co-Angler side Tim improved 20 places with a big sack that went 12-14 pounds. This took Tim from 24th place on Day 1 to finish in 4th place on Day 2. For full results and more photos CLICK HERE.
Many thanks go out as planning and execution for this event could not have been easier. Accommodations provided by The Eufaula Barbour County Chamber members and the wonderful staff at Lakepoint State Park our GBF anglers felt right at home. Many anglers and family members reported excellent dining and shopping opportunities available throughout the week. This tournament was held out of Lakepoint State Park, an excellent venue for any event.  The Eufaula Chamber of Commerce and Alabama State Park officials were outstanding from start to finish.  The Lodge at Lakepoint State Park is an outstanding resource.  We found every member of the staff to be courteous and helpful. The Lakepoint State Park accommodations were also comfortable; some having a balcony with beautiful lake views.   The fully staffed restaurant was open throughout the day and served excellent off the menu and buffet style breakfast and dining options.  The restaurant bar provided the perfect place to relax at the end of the day.